Office:(218) 233-1400 Fax:(701) 282-6729
Fargo North Dakota.
CurbMaster Inc. Styles and Finishes
We offer three different styles of edging. Slant, Mower, and Curb Style. Generally in residential installations we use Slant and Mower style since it is user friendly lawn mowers and the front edges are at grade level.
Slant Style
The front side of the curb is generally set at ground level to accommodate lawn mower wheels. The slanted look shows off any texturing or stamping that may be applied. Slant style is one of our more popular styles and a customer favorite.
Mower Style
Mower Style is very popular because it is installed to both accommodate a lawn mower wheel. It also has great curb appeal because it sets off the landscaping with a picture frame type of look.
Curb Style
The curb style is generally set at ground level for lawn mowing. It is very popular in commercial lawn settings because it handles larger mower wheels and has a more massive look. It can be stamped and textured. Because it is set at ground level it is not as easily seen from the street and therefore leaves a groomed look without seeing as much concrete edging.
We offer the following stamps and rollers, which add curb appeal to the edging. They can be just stamped or rolled or even both combined to create a beautiful textured finish to the curb.

Galvanized Steel Cable
We also offer galvanized steel cable. It is used to increase strength and help minimize the heaving and settling of the edging.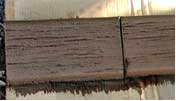 Wood Grain Roller
This wood grain pattern was accomplished in one stroke on a dark brown integral color. No release was used here, although a charcoal gray release would be very effective.
Belgian Roller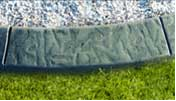 A popular texture especially when used with brick or tile grout lines. This was rolled on an integral color using a slightly darker green or gray release powder to accentuate the pattern.
Spanish Roller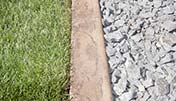 Our most used roller. This particular job was done on the slant style with both an integral color and a powder release to bring out the Spanish texture.
Flagstone Roller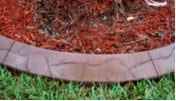 The integral color here was Terra Cotta. It was then rolled with the Flagstone roller using a dark gray powder release agent. Sealing brings out the sheen.
Castle Rock Roller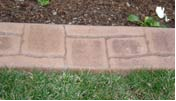 The integral color used on this pattern was Sahara Brown. The accent color in the grout lines and on the surface is Autumn Brown. All accent colors were applied in one application. This pattern has proven to be quite popular.
Brick Weave Roller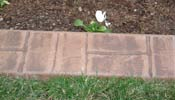 This pattern has been very popular in our metal stamps. With the roller application it gives a more informal look with uneven grout lines. The texture on the bricks is placed at the same time as the grout lines go in. One roll of this roller does it all.
Soldier Course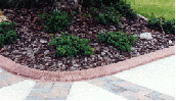 Very likely one of the most popular brick patterns. It's simplicity makes it easy to do and also shows very well. Grout lines can be colored or left the same color as the base brick. The curbing can be textured giving the concrete a varigated brick look or it can be left smooth finished with simple grout lines.
Large Cobblestone
This particular look has also been called Large Tile. After the concrete is texture rolled it is a simple matter to place "grout lines" relatively close together to give it a tile or large cobble look. Generally the lines are placed between 8" and 12" apart.
"CurbMaster Inc.
Specializes in
Continuous Concrete
Edging."